Display Options for Courses and Degrees
April 5, 2023
By now, we're sure you've heard that we offer free, unlimited customization options when building a new catalog with us. However, we also know that "sky's the limit" can often lead to decision paralysis. So many options – where to begin? That's why we've compiled a list of our top three most popular display options for courses and degrees listings. Although we have great flexibility in creating custom form displays based on your team's vision, these three options are tried and true. Not only have they proven to be excellent options in terms of accessibility and readability, but they each allow your institution's branding to be implemented into the design. These forms displays are all pre-built and easily implemented, so your team can always take test-drives of each style to see which format you like best.
Table Display
The table display is a common display choice and reads similarly to a spreadsheet. It features multiple columns with ample spacing for ease-of-reading. Course code, course title, program, and credit hours are typical headings, though these can be customized as you see fit. This condensed formatting also enables the greatest number of courses to be listed in the smallest amount of webpage space. Therefore, less scrolling is required to view all courses or degrees.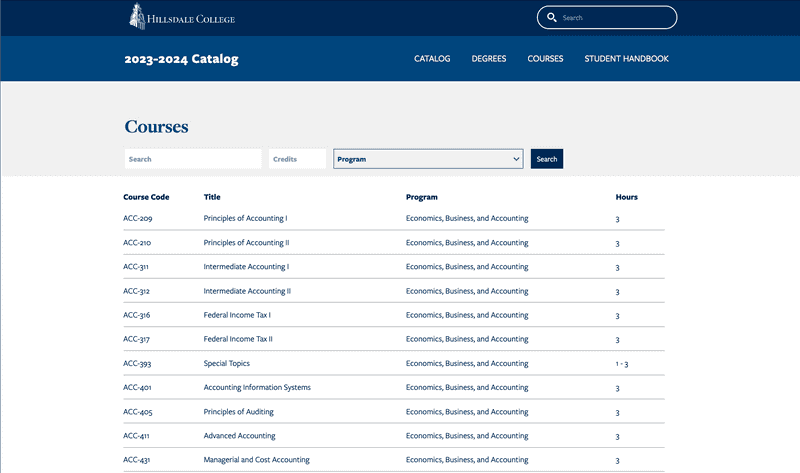 Sample of table display for courses.
List Display
One of our newer design options, list display includes 1 course or degree per line, similar to table display. However, there is a more pronounced hierarchy of content, thanks to badge icons, color contrasting, and text structure. The customizable badge colors and fonts allow you to inject your institution's branding into the design, as well. This display option is the most parsable, allowing users to quickly scan through course or degree listings to easily find the content they're looking for.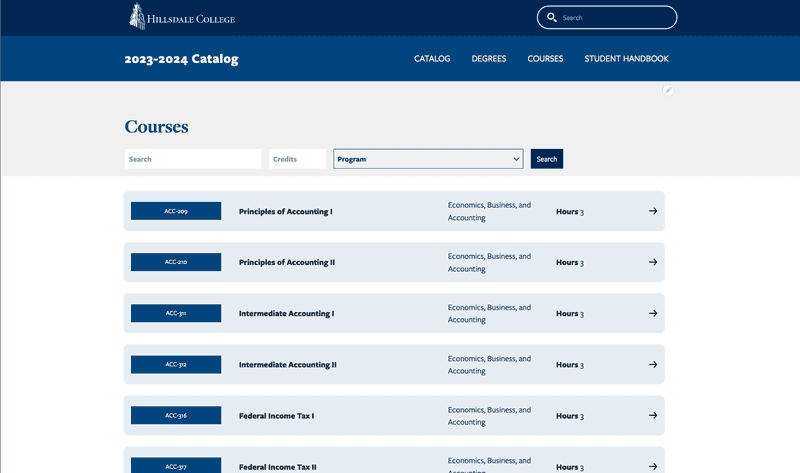 Sample of list display for courses.
Card Display
Our card display option allows multiple courses or degrees to be listed per row. While 3-4 items per row is typical, we can expand or narrow this count based on your personal preference. The background of these cards can be customized with your brand colors and the typefaces customized with your brand fonts. A card display is a great way to add an extra level of accessibility to your catalog site, as the larger boxes are easier to click and the varying text styles makes it easy to read.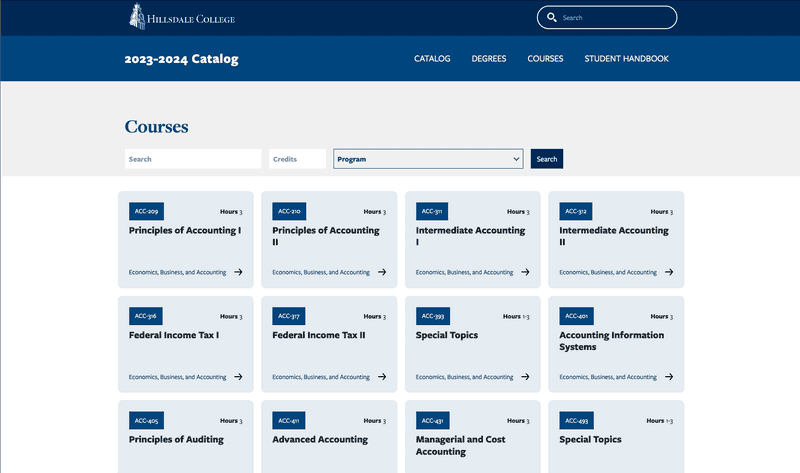 Sample of card display for courses.
Customizing the display formatting is a "minimal effort and maximum reward" approach to designing your catalog. One style change to the display listings changes the entire feel of your catalog, helping it stand out from the sea of other course catalogs on the internet. Whether your staff prefers to design course displays from scratch or use one of our popular pre-built options, the Clean Catalog team will collaborate with you to make it a reality. If accessibility or readability are your top priority, we can offer suggestions and formatting solutions tailored to those concerns. If you'd like to learn more about our course and degree display options, don't hesitate to reach out to us.